5 Stunning Cities Offering Modern and Contemporary Architectural Masterpieces along the California Coast: What to See and Where to Stay
(Left) Image from @resistthemundane on Instagram and (Right) Image from Dwell Magazine
American noir novelist James M. Cain once referred to the Golden State's dichotomous weather as of only ",,two kinds…magnificent and unusual," but he just as easily could have applied the description to the architecture along California's coastline. California's coastal cities boast some of the most beautiful ocean views, abundant sunshine, fabulous art, charming gardens, award-winning restaurants, and stunning architecture in the world, with many topping countless "best of" travel lists. For instance, Brie Dyas, in her roundup article "The 46 Most Quaint and Charming Beach Towns in America For Your Best Vacation Yet" for Good Housekeeping, opens the list with four California towns: Carmel-by-the-Sea, Mendocino, Newport Beach, and Santa Barbara. Capitola, Cambria, Cayucos, and Claremont easily made both Conde Nast and Sunset's lists. Follow below for a list of California's most travel-worthy cities, completed by what to see and where to stay for the art and architecture lover.
(Left) Image from @jewelz_1111 and (Right) Image from @montereyart
Number One: Carmel-by-the-Sea, California
Where: 120 Miles South of San Francisco
What to See: The Della Walker House by Frank Lloyd Wright, The Carmel Art Association Gallery
Where to Stay: "Sanctuary Retreat" in the Carmel Highlands
The Culture Trip seconds Dyas' endorsement of Carmel-by-the-Sea in its article "The 10 Most Beautiful Coastal Towns in the USA," offering second place to the California destination, with Country Living piping in to rate it #18 out of 23 on its list of "The Most Charming Beach Towns Across America." Carmel-by-the-Sea offers incredible views of the ocean, historic galleries, superb seafood, and a number of architectural marvels. While in Carmel-by-the-Sea, consider supporting its vibrant and historic art scene.
What to See: Carmel Art Association Gallery
The Carmel Art Association, proprietor and representative of many celebrated artists hailing from the Central Coast, has served the community since 1927, when it was founded by exceptional female patrons Josephine Culbertson and Ida Johnson in their shared home. According to the Association's website, it is "one of the oldest non-profit artist cooperatives in the United States." The Carmel Art Institute was founded but a decade later by two of the Association's original members Paul Whitman and Armin Hansen, the latter of whom is well-known across the country and whom was celebrated in 2015 by the Pasadena Museum of California Art for his emotional, impressionistic portrayals of the lives of fishermen along the California Coast. KPCC's article reviewing the show described Hansen's seascapes as alive with "emotional depth…vibrating with their deep blues and frothy beige grays."
The Della Walker House


(Left) Image from @following_gehry and (Right) Image from @alabarto
Carmel-by-the-Sea also offers unique monuments to California and American modernist architecture. Frank Lloyd Wright's "Della Walker House" can be seen from the beaches of Carmel, ever an evocation of its surroundings as its commissioner requested the house be "as durable as the rocks and as transparent as the waves." Fully completed by 1956, the house was constructed on a triangular foundation made from Carmel Stone, atop which were laid a number of large granite rocks; the angular roof was composed of copper and turquoise tiles. Based on the hexagonal plan often enjoyed by Wright, the house provides ocean views from nearly every room through enormous steel-framed windows.
Where to Stay: Contemporary Airbnb


(Left) and (Right) Images from Airbnb
For an overnight trip, consider contemporary lodging with sea-views throughout the gorgeous three bedroom home available for rent on Airbnb, pictured above. The listing's authors encourage whale watching from the wraparound deck or soaking in the generous hot tub connected to the master suite.
(Left) Image from @aerial_nomad and (Right) Image from @realhomesofamerica
Number Two: Santa Barbara/Montecito, California
Where: 95 miles North of Los Angeles
What to See: Santa Barbara County Courthouse and Lilac Drive Residence
Where to Stay: Santa Barbara Glass House
Santa Barbara features heavily in most "Best of" travel lists in the United States, from sixth place in Matador Networks' "America's 20 Coolest Beach Towns" by Amanda Machado to fifteenth in a list compiled by Conde Nast. Santa Barbara offers an eclectic mix of architecture, from Spanish and Mission-revival villas and commercial buildings to Contemporary mansions and Modern bungalows. Santa Barbara is also rich with California history, boasting a number of museums including the Museum of Natural History, Museum of Art, Maritime Museum Historical Museum, and the Museum of Contemporary Art.
What to See: Santa Barbara County Courthouse


(Left) Image from @stacyssss and (Right) Image from @mauveandgrey
Architecture buffs should consider visiting the Santa Barbara County Courthouse, which has been hailed as "one of the country's most beautiful public buildings," and which offers beautifully replicated Spanish-Colonial Revival elements throughout. The courthouse was designed in aggregate by architect William Mooser III and was built in 1929 to replace a much smaller courthouse that was damaged by the 1925 earthquake. Placed on the National Historic Landmark registry in 2005, the courthouse includes a clock tower (referred to as "El Mirador"), clay tiled roof, and vaulted arched entryway. The landscaping surrounding the courthouse is lush with palm trees and other native plants throughout the sunken gardens. The interior of the courthouse, which still functions as such, also contains a number of historical objects throughout the interior, including a room filled with murals honoring Santa Barbara.
Lilac Drive Residence


(Left) and (Right) Image from Dwell Magazine
Fans of modern and contemporary architecture, especially those with a soft spot for sustainability, should not leave Santa Barbara without visiting the Lilac Drive Residence situated in the hills of Montecito, only a few miles outside the center of Santa Barbara. Dwell describes the property as "densely covered in oak trees…[which] are protected in Montecito, so the shape of the house was determined both by the trees and the pathway of a protected creek," which passes through the property. Designed by California firm Marmol Radziner, the three-bedroom 3,500 square foot house was constructed of natural materials, many of them local, including "Santa Barbara sandstone, reclaimed wood, and smooth-troweled, dark finished cement plaster."
Where to Stay: Santa Barbara Glass House


(Left) and (Right) Images from Airbnb
Offered on Airbnb for under $400 per night, the Santa Barbara Glass House pictured above is described by the host as "merging with the natural world reflecting and exposing the epic sycamore and oak trees on this incredible piece of Earth…redwood back deck perfect for yoga and a natural extension of the inside space." Surrounded by a creek, wooden bathhouse, large hot tub, and outdoor kitchen, the glass house offers a true connection with nature.
(Left) Image from @verdantvalleymining and (Right) Image from @mitiyor
Number Three: Big Sur, California
Where: 145 miles south of San Francisco
What to See: Mickey Muennig Big Sur Ranch House and Terra Mar, Bixby Bridge
Where to Stay: Ventana Big Sur Resort
What to See: Mickey Muennig-Designed Residences


(Left) and (Right) Images from Uncrate
Big Sur, California is home to a number of residences, hotels, and other builds designed by legendary architect Mickey Muennig. Muennig, described by Dwell as "one of the top 100 architects in the United States," has been recognized and respected for his "eco-friendly" response to design; Muennig uses "earth materials and recycled products" throughout most of his structures, wherever they may be located across the US. Muuenig's Big Sur builds include the Post Ranch Inn, described by Curbed LA as a "luxury eco-hotel," the Big Sur Ranch House, and Terra Mar.
The Terra Mar house is exceptional because of its organic, "swooping lines, curved walls, and exposed wood," eschewing any and all right angles, a common practice of Muennig in his residential designs. The Terra Mar house is nestled into a cliff below which the ocean immediately meets the land (hence the name of the home). Muennig designs many of his homes to reflect their surroundings, as can be seen in the undulating bare wood ceilings, floor to ceiling windows, and Terra Mar's "most impressive feature: a sky bridge that leads you to a guest house." Consider embarking on a self-guided and created Muennig tour while in the Nor-Cal town.
Bixby Creek Bridge


(Left) Image from @kirstyadekoluejo and (Right) Image from @cheenasviews
Described by VisitCalifornia.com as "Big Sur's version of the Golden Gate," Bixby Creek Bridge is a "must-see road trip spot for many and probably the most Instagrammed feature along Highway 1." The massive but delicately designed concrete and wood bridge, originally referred to as "Rainbow Bridge," was constructed in the 1930s for just under a quarter-million dollars but has remained a favorite tourist spot since its ribbon-cutting ceremony nearly a hundred years ago.
Where to Stay: Ventana Big Sur


(Left) Image from @wanderluxedestinations and (Right) Image from @ventanabigsur
Recently renovated, Ventana Big Sur Resort was originally built in 1975, intended for road-trippers traveling along the California Coast. According to Lyndsey Matthews' article "See Inside Ventana Big Sur's Multimillion-Dollar Renovation" for Town&Country, the resort offers "15 luxury glamping tents in the 20-acre redwood canyon located below the main resort." The tents are more comparable to tent cabins, with "real beds outfitted with white hotel linens, hot and cold running water, and a propane fire pit." Each suite or villa in the main resort provides guests with their own "private balcony or patio along with soaking tubs and wood-burning fireplaces." The interior décor focuses heavily on comfort and local representation. A contemporary common area offers gigantic windows, pale wood, and stunning mid-century modern furnishings.
(Left) Image from @calibeachgirl_ and (Right) Image from @elenaneis
Number Four: San Simeon, California
Where: 190 miles North of Los Angeles
What to See: Hearst Castle
Where to Stay: Cambria Beach Lodge
What to See: Hearst Castle


(Left) Image from @stylebound.traveller and (Right) Image from @theweekendguide
Lauded by Time magazine as one of their "World's 100 Greatest Places to Visit," Hearst Castle has been described as the epitome of opulence. Designed by architect Julia Morgan for William Randolph Hearst, American publishing tycoon, and California icon, Hearst Castle contains 165 rooms throughout the property, many of which have been designed in different styles. The property also boasts a number of landscaping feats, including several pools, one of which is the famous "Neptune Pool," with numerous Art Deco sculptures, water features, and native plants. The castle sits on 250,000 acres of land, which Hearst dubbed "La Cuesta Encantada" or "The Enchanted Hill."
Unfortunately, according to the Hearst Castle Foundation's website, its founder was forced to leave the castle and its surroundings by 1947 due to ill health, leaving the mammoth estate unfinished to this day, despite its "acres of gardens, terraces, pools, and walkways—all built to Hearst's specifications and showcasing a legendary art collection." Visitors are recommended to attend a tour of the property, specifically focusing on Casa Grande (the upper floors of the estate), the cottages and kitchens, the gardens, the Neptune and Roman pools, the Wine Cellar (which was built during Prohibition), and the zoo. One tour offers an in-depth lecture about architect Julia Morgan, who, according to the Hearst Castle website, was "the first certified female architect in California and the first American woman to head her own architectural office."
Where to Stay: Cambria Beach Lodge


(Left) and (Right) Images from @cambriabeachlodge
Just a ten-minute drive from Hearst Castle, Cambria Beach Lodge is an Instagram-influencer and wine-lover favorite. The exterior is a modern beach bungalow dream, with the interior complimented by "sun bleached wood floors, turquoise accents, and signature oversized showers." The lodge, just a short walk from Moonstone Beach in San Simeon, features a number of local offerings, including a mini bar complete with local Paso wines and artwork by regional artists. In her article "4 Reasons You Should Stay in a Small Boutique Hotel in California Right Now" for Architectural Digest, Kate Donnelly recommends gathering with other travelers in the communal spaces of Cambria Beach Lodge as "the lobby's U-shaped sofa and Fermob chairs grant stellar ocean views (really, there's not a bad seat in the house, thanks to mirrored walls)."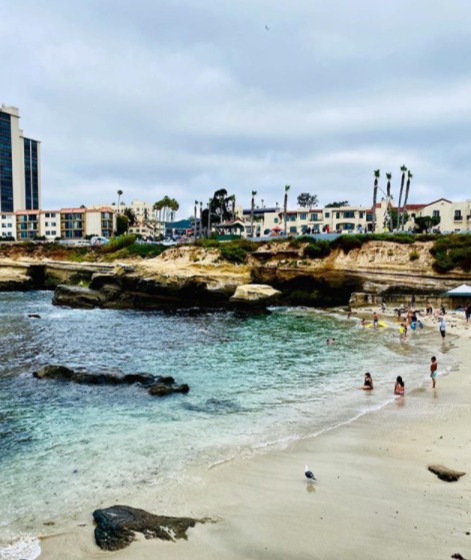 (Left) Image from @giadabravo and (Right) Image from @eyestructure_lajolla
Number Five: La Jolla, California
Where: 13 miles North of San Diego
What to See: The Geisel Library and the Salk Institute
Where to Stay: This "Bright Apartment" on the Beach
What to See: The Geisel Library


(Left) and (Right) Images from @telston92
Architect William Pereira's futurist, brutalist architectural monument to higher learning, the Geisel Library at UC San Diego just outside La Jolla offers what Arch Daily describes as "strong concrete piers and hovering glassy enclosures," providing students with stunning views of the ocean and natural beauty of the university's perfectly landscaped campus. Atop their tapered base, the upper levels of the library almost appear to float, despite their heavy construction, a phenomenon David Langdon describes as "an ambiguous state between massiveness and levitation." Though under-appreciated when it was constructed during the 1960s and '70s, today the building is an architectural icon, home to the writings and drawings of Dr. Seuss (Mr. Geisel, for whom the library was named), a patron of UC San Diego.
The Salk Institute


(Left) Image from @anto.treglia and (Right) Image from @fabianomutzumartis
The Salk Institute, a research center funded by the city of San Diego and gifted to the pioneering scientist Jonas Salk (engineer of the Polio vaccine), is a monument to the vibrant, experimental architectural scene of the Southern California Coast. Salk participated heavily in the design of the building, demanding spacious laboratories, low maintenance grounds, and a private, secluded space for scientists and intellectuals. Working with architect Louis I. Kahn, Salk requested the building be separated into three zones: Village, Meeting House, and labs. According to Arch Daily, Kahn's goals included creating an oasis for researchers, with the scheme "spatially orchestrated in a similar way to a monastery: a secluded intellectual community." While the laboratories were the only elements of the project that were fully constructed, their Travertine-stone, Roman-inspired towers have become iconic, as has the central garden that separates the two.
Where to Stay: Airbnb's "Bright Apartment" on the Beach


(Left) and (Right) Images from Airbnb
The gorgeous contemporary condo pictured above is available on Airbnb for just $300 per night. Offering Windansea Beach views, a formal dining room, floor-to-ceiling windows, and a short walk to the ocean, this bright two-bedroom, two-bath apartment provides guests with all they could need in La Jolla. The property boasts countless amenities including a full kitchen, washer-dryer, and plenty of parking. The listing has an average 4.92-star review (of 72 respondents) and describes its location as minutes away from San Diego's MOCA, Cove, and La Jolla Village.