From Fort Lauderdale, Florida to Charleston, South Carolina, the Southeast US offers travelers a mix of high design and low-key relaxation.
(Left) Image from @flashmama80 and (Right) Image from@houseexteriordesign
According to travel writer Lori Brown in her article "The Top Places to Visit in the Southeast U.S." forTrip Savy, the Southeast coast offers "miles of warm sunny beaches in the summer, blooming gardens in the spring, colorful fall foliage, skiing in the winter, and much more." The Southeast US also offers historical destinations, countless museums, and architecture from the country's beginning until today.
Brown recommends traveling through the South during the springtime for the blooming gardens in Charleston or Richmond or during the winter for the snowboarding and skiing opportunities offered by the Great Smoky Mountains and Shenandoah Valley, but the unique architectural monuments to Modernism and Contemporary design are year-round attractions. From Miami to Galveston, the Southeast coast suffers no shortage of incredible artistic, cultural, and architectural achievements.
Where to Go: Fort Lauderdale, Florida
What to See: The Broward County Library
Where to Stay: Modern Luxury Airbnb
(Left) Image from@arubabeachcafelbtsand (Right) Image from@bfriscia2190
Described by US News' travel writers as the "Venice of America" for its nearly two hundred miles of canals, Fort Lauderdale has risen to the status of international travel destination over the past few decades. According to US News, Fort Lauderdale offers "wide stretches of white sand" that are considered the "best shores statewide." Travel + Leisure celebrates the city for its multicultural residents, architecture, and gastronomic culture, as well as "five-star operations" throughout the town, with "one of Florida's best beaches, clean and quiet, with bars that are as likely to serve artisanal cocktails as pitchers of cheap beer." The article recommends that visitors consider Fort Lauderdale's many museums, from the Museum of Discovery and Science to the Bonnet House Museum and Gardens.
What to See: The Broward County Library
(Left) Image from @melissagessner1 and (Right) Image from Broward County Library
Designed by famed architect Robert Gatje and constructed between 1980 and 1984, the Broward County Library in Fort Lauderdale, Florida offers a fascinating modern, tiered façade. Architect Robert Gatje began his work in California where he studied, but later worked under Marcle Breuer; he became a partner in the firm and took over for Breuer after his mentor's death. According to Architect Magazine, Gatje showed promise from an early age, starting his career with Breuer's firm "fresh off a Fulbright Scholarship at the Architectural Association of Architecture in London."
Aside from the Broward County Library, Gatje is best known for designing the IBM France Research Center at La Gaude and his work with Breuer on the Whitney Museum of American Art's main building. The Broward County Library building does somewhat recall the Whitney's exterior and overall architectural program. Culture NOW describes the building as designed in the Brutalist style, but with materials that were better "adapted to the subtropical climate." To mesh with its surroundings, local limestone was chosen as the primary building material.
Where to Stay: Modern Luxury Airbnb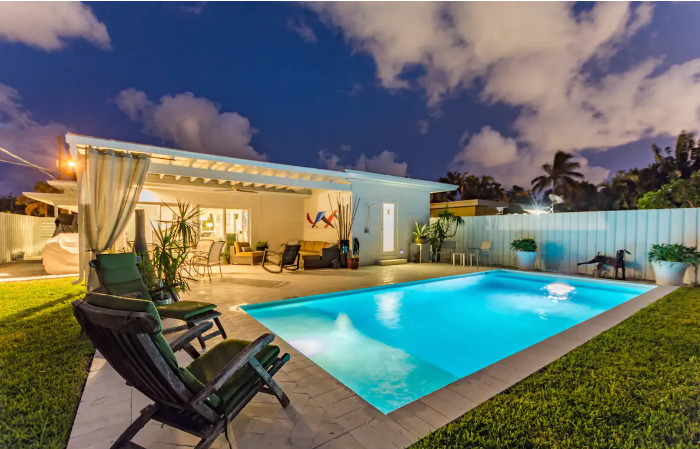 (Left) and (Right) Images from Airbnb
According to the listing's author, this Poinsettia Heights home is located close to Wilton Manors and Las Olas, just a few streets north of the beach (a seven-minute drive). The house offers a quiet neighborhood for a family getaway or corporate retreat. Capable of hosting four guests across its two bedrooms and two baths, this recently renovated modern home offers "vaulted ceilings," an "open floor plan," and a "secluded landscaped paradise with a heated saltwater pool." Guests are free to use the grill, kitchen, and outdoor shower. The listing notes that the owners also supply beach chairs, pool towels, bath towels, shampoo and soap, along with cable, Netflix, and a Sonos sound system.
Where to Go: Miami, Florida
What to See: the Perez Art Museum Miami (PAMM) and the Adrienne Arsht Center
Where to Stay: Stunning Modern Rental with Rooftop Jacuzzi
(Left) Image from@themiamiguideand (Right) Image from@perfekttouch
What to See: The Perez Art Museum Miami (PAMM)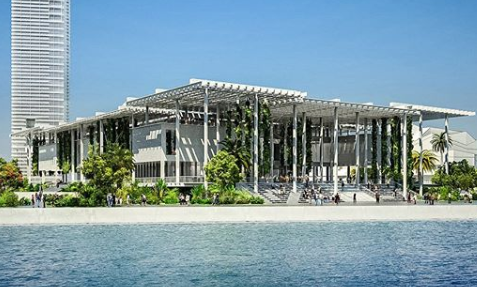 (Left) Image from @infinityrealty and (Right) Image from @luxeandclass
The Perez Art Museum of Miami was constructed with climate change and a growing youth population in mind; according to PAMM's website, architects Herzog & de Meuron hoped to create a "rising art museum" that would respond to the needs of a changing environment and changing understanding of society as a whole. The firm worked with "local and international landscape designers and horticulturists" to bring the outside in "in new and innovative ways," rarely seen before in Modern or Contemporary public architecture.
The interior of the museum demonstrates this connection to nature, as botanist Patrick Blanc's carefully designed hanging gardens cannot be missed overhead as one walks through the museum. The external architecture of the building includes a canopy that "creates a series of outdoor spaces that bridge the museum, park, and city," letting in light and nature through its perforations. The building has already achieved its primary goal: to grow with the city and its people.
The Adrienne Arsht Center
(Left) Image from @the.big.ticket and (Right) Image from @pachlee
The Adrienne Arsht Center, a performing arts complex serving Miami-Dade County, was designed between 1996 and 1999, constructed between 2001 and 2006, and opened in 2006. The project was funded jointly by the public and private sectors, with private capital raised by the PACF and public contributions made by taxpayers; the joint cost came to $472 million by the end of the project. Architect Cesar Pelli was chosen to design the architectural program, with Joshua Dachs and ARTEC, Inc. consulting on the acoustic design of the theater.
Cesar Pelli is well-known around the world for his exceptionally tall buildings, most in urban centers and some of them achieving landmark status over the past few decades. Though Pelli died in 2019 at age 92, his work is still celebrated, especially for his Petronas Towers in Kuala Lumpur and his work in the United States. Pelli designed the Adrienne Arsht Center around the same time as the Minneapolis Central Library, Segerstrom Concert Hall, and the Landmark in Abu Dhabi.
Where to Stay: Stunning Modern Rental with Rooftop Jacuzzi
(Left) and (Right) Images from Airbnb Plus
This stunning, incredibly private three-story beach house in Coconut Grove, Miami offers renters four bedrooms, five bathrooms, and an 1,800 square foot rooftop, complete with panoramic views, an infinity pool, and a heated jacuzzi. The first floor provides peak Modernism, with floor-to-ceiling glass windows, "state of the art floating stairs with gorgeous wood and spectacular craftsmanship," a new "top-end Italian kitchen" with an island that serves as a breakfast table and quartz-topped counters. The house is only a short drive from Downtown Miami and Key Biscayne, with the property offering guests a three-car parking garage for their travel comfort.
Where to Go: Houston, Texas
What to See: The Museum of Fine Arts Houston (MOFAH)
Where to Stay: Galveston Bay Waterfront Retreat
(Left) Image from@thecarolineclearlakeand (Right) Image from@james_david_mckenna
While Houston does not quite rest on the beaches of Texas, Galveston, just a short half hour drive from the metropolis, does offer some of the best sand and surf in the state. Staying in a luxurious modern rental in Galveston while making day trips to Houston for art, architecture, and design provides Texans and travelers alike with the best of the Southern coast.
What to See: The Museum of Fine Arts Houston
(Left) Image from @mpbroderick and (Right) Image from @pav_lifestyle
The MFAH (Museum of Fine Arts Houston) boasts a unique architectural legacy, beginning in 1900 and following to 2018. World-renowned architects such as Ludwig Mies van der Rohe, Rafael Moneo, and William Ward Watkin have each designed buildings for the campus, with Isamu Noguchi designing the sculpture garden in 1986. The museum, which houses contemporary and modern art, also provides the public with a "repertory cinema, two libraries, and public archives," while working to preserve art objects in their conservation lab. Cullinan Hall (pictured above, left), designed by Ludwig Mies van der Rohe in 1958, was funded by Nina J. Cullinan, a major benefactor of the museum.
The project was designed in pure Modernism, with art critic Ann Holmes quoted by the museum's website as comparing entering the building to "'walking from inside to the out-of-doors.'" The Audrey Jones Beck Building, designed by Rafael Moneo in 2000 and the New Glassell School of Art (pictured above on the right), added in 2018 by Steven Holl Architects to replace the old school, are two of the museum's other famous buildings.
Where to Stay: Galveston Bay Waterfront Retreat
(Left) and (Right) Images from Airbnb
This stunning four-bedroom contemporary mansion on Galveston Bay has immediate ocean views, spectacular access to sunsets over the horizon, and all the amenities up to ten renters at a time could need. The home boasts an open floorplan with enormous windows from floor to ceiling in nearly every room, a brand-new modern kitchen with Viking appliances designed for chefs, a heated pool and spa, and a large patio. Two of the upstairs bedrooms directly overlook the ocean, as do the kitchen and living room. The side of the home that looks out towards the bay is completely composed of two rows of windows, each with very little between to block the view.
Where to Go: Isle of Palms, South Carolina
What to See: The Round Beach House
Where to Stay: Contemporary 5 Bedroom with Southern Charm
(Left) Image from@morganfannand (Right) Image from @_jpry
Lauded as the sixth best beach in Elizabeth Rhodes' article "9 Best Beaches in South Carolina" for Travel + Leisure, Isle of Palms, South Carolina offers dozens of outdoor activities including tennis, surfing, paddle-boarding, and golf, but sets itself apart from other South Carolina beaches with its incredible architecture.
What to See: Sullivan's Island Dome House
(Left) and (Right) Images from CNBC
Considered the town's "most unique mansion," according to CNBC, the Sullivan's Island Dome House was designed by architect George Paul in the 1990s. Paul, having designed several other dome structures, typically as much larger builds, chose to create the house after his parents suffered the loss of their previous home at the destruction of Hurricane Hugo in 1989. Paul enlisted architect X Dilling, who is a Charleston-native, to bring the project to life. The entire exterior of the home is a single piece, which was designed as such to protect the property from heavy wind during natural disasters. The home is also "thermospheric," which CNBC writer Sarah Berger notes in her article "Take a look inside Charleston's weirdest mansion – it's $5 million and hurricane-proof" means it is "energy efficient."
Enormous glass windows appear curved through the undulations of the dome but are cut in typical rectangles. The building's architecture echoes the landscape surrounding it, as it rests atop a slowly inclining hill. At just under 4,000 square feet, the mansion is filled with curved furniture that refers back to the house's exterior. The house, which was listed recently in 2018, represents the ideal of "home as sculpture," according to its brokerage.
Where to Stay: Contemporary 5-Bedroom with Southern Charm
(Left) and (Right) Images from Airbnb
A brand-new build, this Charleston Island rental offers five bedrooms and four and a half baths, accommodating up to twelve guests at a time for $650 per night. Just behind Wild Dunes in Isle of Palms, South Carolina, this "Classic Low Country style home" presents visitors with a traditional Southeastern exterior, surprising them with incredibly luxe, contemporary décor inside. The listing notes that the property includes "its very own private pool and hot tub, a large open concept living, dining, and kitchen area, a screened porch and deck, and two master bedrooms," each with large walk-in showers. Two queen bedrooms and a large bedroom with two twin beds and one queen-sized each have access to a semi-private bathroom upstairs. The bottom level also features a large garage.
Where to Go: Charleston, South Carolina
What to See: The Arthur Ravenel Bridge
Where to Stay: Historic Art Villa or Industrial Lodge Apartment
(Left) Image from@oakleyphotographyand (Right) Image from@islandhouserealestate
According to Forbes contributing travel writer Theresa Christine in her article ""The Design Insider's Travel Guide to Charleston, South Carolina," the city boasts "Instagram-worthy architecture," an "exciting culinary scene," and "warm residents," making it feel like a small town and a big city simultaneously. Quoted in Christine's article, founding partners of SDCO, Courtney Rowson and Amy Pastre consider the last ten years to have signaled a "creative renaissance…in Charleston." The city offers so many exciting sites, from "inspiring museums, hip restaurants, and one of a kind boutiques," making it a place that "calls creative people" from near and far, whether they be interested in picking up and moving to Charleston or just stopping by to take in its burgeoning contemporary architecture, design, and arts scene.
What to See: The Arthur Ravenel Bridge
(Left) Image from @mindykaysl and (Right) Image from @wadelyon
The Arthur Ravenel Jr. Bridge over the Cooper River in South Carolina crosses the waterway for travelers between Mt. Pleasant and Charleston. Designed in 2001 by Parsons Brinckerhoff replaced the Grace Memorial Bridge and the Pearman Bridge, which High Steel, the fabricator of all the steel used in the project, notes were both obsolete; the new bridge permitted "modern container ships to pass through into the Charleston Harbor," which is "one of the country's largest ports." Though the bridge was scheduled to open in 2006, it actually opened an entire year before its planned launch in July of 2005. Costing $58 million and requiring 38,000 tons of steel, the project represents an exceptional feat of modern design, as the nearly four-mile bridge is the "longest cable-stay bridge in North America."
Where to Stay: Industrial Lodge Apartment
(Left) and (Right) Images from Airbnb
Nestled between the Cooper and Ashley Rivers and not far from the coast, this renovated 1855 antebellum house may seem a far cry from modernism or cutting edge contemporary, but its industrial interior, complemented by rich tones of local wood, echo some of the tenants of both architectural styles. With a wrap-around porch, the five-bedroom house provides visitors with dozens of views to the outdoors. The backyard pergola offers a ranch or Mediterranean style feel, while the bathrooms offer a cool sense of decadence. Exposed brick surrounding the full kitchen's hooded stove and modern lighting (including a two-tiered metal chandelier and other pendant lights throughout the house) offer uniqueness to visitors.
Historic Art Villa
(Left) and (Right) Images from Airbnb, all of which picture art by local artists
This charming blue-painted home may appear traditional, but as with the Industrial Lodge Apartment mentioned above, this lovely two-bedroom "Villa Incognito" offers a perfectly remodeled contemporary interior. Exposed beams, rows of pendant lights, and an open floorplan from the kitchen to the living room all add to the light and airy atmosphere. Mid-century modern style furniture fills each space, from the deck to the bedrooms, all lined or upholstered with luxurious, retro fabrics. Despite its roots as an 1885 house, the property has been completely remodeled to reflect 20th century design ideals. Just a hop, skip, and jump away from the beach, this lovely Elliotborough home welcomes guests to the heart of Charleston, going so far as to provide a "rotating gallery of local artists' work" in its list of unique amenities.