Charming coastal towns from Oregon to British Columbia offering picturesque beaches, luxury accommodations, and modern architectural landmarks
(Left) Image from Inside Vancouver and (Right) Image from Visiting Coos Bay
The Pacific Northwest offers a multitude of incredible vacation spots, both for the Washington or Oregon local and for visitors from out of state. From artisan coffees and Michelin star restaurants to stunning coastal and mountain views, the Pacific Northwest provides visitors with a unique experience unlike anywhere else in the United States. As Tess Marshall notes in her article "11 Reasons To Visit The Pacific Northwest" for The Odyssey, "the Pacific Northwest is home to some of America's only rain forests" and offers incredible scenic diversity as one may lounge on the beach in 75 degree weather before heading to the mountains to play in snow. From Northern California to Vancouver, each spot along the way is guaranteed to wow travelers with both natural and man-made marvels.
Where to Go: Manzanita, Oregon
What to See: Modern House featured in Dwell Magazine
Where to Stay: Beautiful Beachside Airbnb
Bonus: If willing to take a longer drive (approximately 2.5 hours), you can visit Frank Lloyd Wright's Gordon House
Described by the Oregon Coast Visitors Association as "a beautiful oceanside city with seven miles of sandy beach" that offers "spectacular walks by the ocean," Manzanita overlooks the Nehalem Bay off the northern coast of Oregon. The seaside town is located nearby Neahkahnie Mountain, a popular destination for climbers and hikers alike given its accessibility by the Oregon Coast Trail. While its captivating natural environment draws most tourists to Manzanita, the town also offers a number of architectural marvels (including a Frank Lloyd Wright house just a couple hours drive away) and luxury overnight accommodations, making it the perfect holiday choice for any design-minded person.
What to See: Marvin Witt House Feat. in Dwell Magazine
(Left and Right) Images by Cole Gerst for Dwell Magazine
Designed by Mid-Century Modern architect Marvin Witt, an Oregon native who graduated from the University of Oregon School of Architecture in the 1940's, the Manzanita home described in Cole Gerst's article "Oregon Coast Modern" for Dwell Magazine epitomizes the design movement's key elements. As most Mid-Century Modern architects, Witt focused on the "use of natural materials and harmony with their environment" in his designs while still addressing the "interests and desires of his clients."
Though Witt initially worked both as a member of the Portland Planning Commission and a professor of architecture at Portland State, his practice eventually expanded to include residential designs, including the Manzanita house, which he designed for his own family. An avid hiker and outdoorsman, Witt needed a home from which he could access the natural world; thus, the Manzanita house features expansive windows on each of its three levels as well as a deck and balcony overlooking the ocean.
Gordon House
Image from the Frank Lloyd Wright Foundation website
A bit of a drive from Manzanita, Oregon (approximately two and a half hours), Frank Lloyd Wright's Gordon House is worth the trip to Silverton, as it is the architect's only designed home in the state. Commissioned by a local farming family in the 1930's, the Gordon House is a quintessential example of Wright's "Usonian" series of homes. According to the Gordon House Conservancy website, Wright's Usonian houses were designed for the average American family searching for a modern home that could blend in with the landscape. Today, preservation efforts continue as Oregonians protect the house from efforts to demolish it.
Where to Stay: Beautiful Beachside Airbnb
(Left and Right) Images from Airbnb Plus
According to its listing on Airbnb Plus, this beautiful beach and hillside rental "features neutral grays, light touches of color in contrasting motifs, a cozy wood-burning stove, a covered patio walkout underneath the raised back deck, and an outdoor fire pit." With four bedrooms and eight beds, the home offers space for up to ten guests at a time and allows for pets. Reviews of the rental praise it as "beautifully decorated with many thoughtful touches" and perfect for families, singles and couples alike. Just a short walk from the beach "and right next to the golf course clubhouse," the home offers close proximity to a number of activities.
Where to Go: Puget Sound, Washington
What to See: Seattle Central Library and Paul Kirk's Dowell Residence
Where to Stay: Private Beachfront Home with Gorgeous Views or Peaceful Waterfront Island Home
According to Chloe Ernst and Brad Lane in their article "12 Top-Rated Attractions & Things to Do in Puget Sound" for Planet Ware, "abundant wildlife, native cultures, farming communities, and numerous hidden gems of Washington all inhabit Puget Sound and the [neighboring] San Juan Islands," coming together to create a long list of "must-visit island getaways" just outside Seattle. For natural sightseeing, Deception Pass State Park, Oak Harbor, and Whidbey Island all offer "numerous recreational opportunities, including extensive tide pooling, scenic vista hikes, camping, and boating," but Puget Sound also offers a number of intellectual and cultural sites especially due to its close proximity to Seattle which is but a twenty-eight mile drive away.
Seattle Central Library
(Left) Facade of the SCL, Image from Wikipedia by Ɱ / CC BY-SA and (Right) Staircase on the Red Floor, Image from the Seattle Central Library
Architecture buffs will appreciate the Seattle Central Library, completed in 2004 and designed by Rem Koolhaas and Joshua Ramus, for its sleek, innovative facade. Constructed from aluminum, glass, and steel and filled with over a million books, four hundred computers, and countless research materials for public use, the library is an excellent expression of Seattle's focus on learning and technological advancement. LMN Architects, who collaborated with Koolhaas and Ramus, describe the library as "a building that honors books, and at the same time, is very forward-looking to reflect major technological advances in the information business." The building was constructed to allow workers and users maximum access to "daylight and city views" rather than feeling as though they were penned inside. One of the most impressive internal design features of the library is a three-story book spiral that sends books down to the Collections Department's sorter.
Paul Kirk's Dowell Residence
(Left and Right) Images from Olson Kundig
Lovers of mid-century modern architecture will find no better an example than Paul Kirk's Dowell Residence, lauded as "one of Seattle's ten best homes by Seattle Met." According to Sean Keeley in his article "The Dowell Residence by Paul Kirk Now Up for $1.5 M" for Curbed, the Dowell Residence boasts complementary landscaping by designer William Teufel, "an open atrium" which bathes the entire home in daylight, a master bedroom more comparable to a "private apartment," and "a lounge area with a wood-burning fireplace."
Constructed in 1953, the house offers all the hallmarks of peak mid-century modern design, from the open floorplan and huge windows to the pale wood and abundant greenery throughout. As explained in Mid-Century Home's article "Spectacular Seattle Mid Century Brings the Outside In," Pacific Northwest architect Paul Kirk designed the space to be constructed of and filled with natural materials, "making the most use of the natural landscape with the intention to integrate his design with as little impact on the site as possible."
Where to Stay: Private Beachfront Home with Gorgeous Views
(Left and Right) Images from Airbnb
Boasting only five-star reviews, this private beachfront Airbnb rental offers unencumbered views of Admiralty Bay. The listing describes the home's many offerings, including a "bay-front deck," "high ceilings and towering windows that showcase the gorgeous Whidbey Island scenery," a "well-equipped full kitchen," fireplace, fire-pit, and upstairs lounge area with a "sleeping nook."
Housing up to eight guests across its two bedrooms, this home provides visitors with convenient access to the shore, Fort Casey State Park, Ebey's Landing, historic Port Townsend, and a number of shops and restaurants. Decorated in coastal blues and pale wood, the interior of the home is sure to please anyone searching for stylish, family-friendly seaside rental while its surroundings provide countless activities.
Where to Go: Bainbridge Island, Washington
What to See: The Bainbridge Island Museum of Art
Where to Stay: Contemporary Seaside Home or Sleek Waterfront Tiny House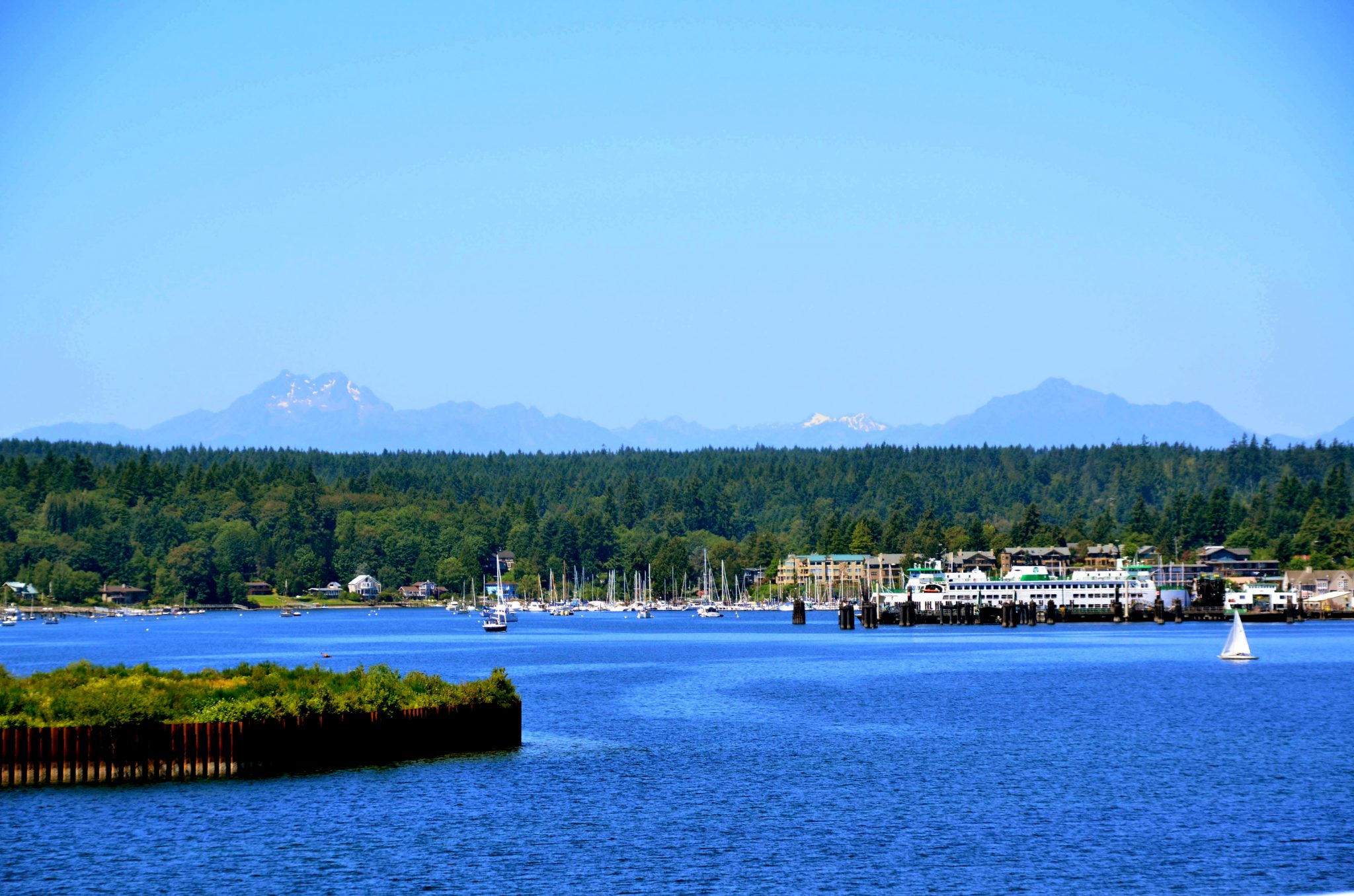 (Left) Image from Visit Bainbridge and (Right) Image from Destination Bainbridge
Bainbridge Island, not far from the Puget Sound, Seattle, and other popular cities within the state, provides the natural beauty, dining experiences, and exquisite shopping expected by visitors to Washington. Accessible by ferry ride from downtown Seattle, Bainbridge Island offers culture-seekers a number of destinations, from the Bainbridge Island Museum of Art (for architecture buffs), the Bainbridge Brewing Alehouse (for craft ale connoisseurs), and the Kids Discovery Museum (for families). With most activities centered in the village of Winslow, each destination is but a walk from the others, making Bainbridge Island the perfect day-trip as one travels along the Pacific Northwest Coast.
The Bainbridge Island Museum of Art
Small Town Washington endorses the Bainbridge Island Museum of Art for its "fantastic exhibits which rotate every three months…book room…courtyard with a water feature…[and] BIMA Bistro," but lovers of contemporary architecture will be taken with the museum's structure. The contemporary art and craft museum offers pieces primarily from the Puget Sound region, popular amongst locals and students at the University. Designed by Matthew Coates (of the Washington firm Coates Design Architects), the Bainbridge Island Museum of Art's main building was completed in summer of 2013 to great acclaim. In 2016, the building was awarded LEED Gold Status, according to the museum's website, and has since been referred to as "the jewel of Bainbridge Island."
Designed with an eye on sustainability, the BIMA building features "geo-exchange energy, daylighting controlled louvers, solar power, recycled materials (including denim insulation and green-labeled certified carpets and paints)." The building also boasts over 20,000 square feet of usable space, which includes a "reception area with a two-story atrium and grand staircase, seven galleries, a divided classroom space, a 95-seat auditorium, bistro, museum store, and a green roof garden and patio." With its glass and metal exterior and soaring windows, the building echoes many contemporary architectural pieces throughout Washington State (especially in Seattle) through its reflection of the surrounding landscape.
Where to Stay: Contemporary Seaside Home
(Left and Right) Images from Airbnb
This beautiful seaside rental, accommodating up to seven guests at a time for just over $200 per night, sits right on the beach. Located in Point Monroe at the northern tip of Bainbridge Island, this rental offers "gorgeous views and plenty of modern comforts and entertainment" according to its hosts; with Fay Bainbridge Park just a three-minute walk away and quaint shops and restaurants just a few minutes beyond the park, this rental provides visitors with the best of Bainbridge Island. The listing also notes the home's close proximity to the ferry, which can take visitors to Seattle or Victoria, British Columbia for additional "shopping, dining and museums." The rental also features three bedrooms, an outdoor deck with a grill, washer/dryer, wifi, kitchen, and an indoor fireplace, as well as elegant furnishings throughout.
Sleek Waterfront Tiny House
(Left and Right) Images from Airbnb
Though this guesthouse may be miniature compared to other listings on Airbnb, it makes up for its size with style. With a beautiful sage-green exterior, warm lighting, and lots of exterior space surrounding its living quarters, this tiny house provides renters with a shower, kitchenette (complete with coffee maker, mini-fridge, microwave, and tea kettle), and private sleep space Outfitted with a "delightful patio garden with a fire-pit and hot tub to enjoy" and fast wifi, this tiny house offers all the comforts of home or a more traditional rental without the high price. Located just minutes away from the ferry, this guesthouse provides renters quick travel throughout Bainbridge as well as to Seattle and beyond.
Where to Go: Vancouver, B.C., Canada
What to See: The Museum of Anthropology and Jameson House
Where to Stay: Chic Loft Sanctuary or Waterfront Penthouse
(Left and Right) Images from Tourism Vancouver
A truly modern city brimming with art, culture, and technology, Vancouver, British Columbia is a destination of both the Pacific Northwest coast and of Canada. With wine tastings, designer shopping, boating, hiking, skiing, whale watching, camping, museum hopping, and more all available to tourists and residents alike, it can be difficult to choose activities and locations for a short trip. However, architecture buffs will likely most enjoy the University's Museum of Anthropology and downtown's Jameson House.
The Museum of Anthropology
Owned and operated by the University of British Columbia, the Museum of Anthropology offers visitors exhibits and programs inspired by its "partnerships with Indigenous, local and global communities." The museum's staff conducts research into, conservation of, and public education about the pieces within its collection, the majority of which contains "ethnographic objects from around [the] world, including the South Pacific, Asia, Africa, Europe and the Americas." While its library, archives, and exhibition spaces are all impeccable, the building's architecture is an impressive feature in and of itself.
Designed both for academic study and for public enjoyment, the Museum of Anthropology offers a unique way of displaying and storing its objects; according to Arthur Erickson in his article "Museum of Anthropology at UBC" for Architect Magazine (quoting the architect of the MOA), "the visible storage of all artifacts…eliminates the need to rotate collections from public display to private storage." Like many public buildings along the Pacific Northwest Coast, the MOA responds both to the history of the area's people and to its natural environment.
One way in which MOA honors both is through the recreation of "First Nation villages around a pond on the Museum site including vegetation consistent with their original locale." The museum is clad mostly in glass, with much of the interior visible from the outside (and the outside visible from the interior) both during the day and at night; the architect of the project intended the focal point of the Museum to be the "high ceiling Great Hall housing massive totem poles" created by local Indigenous peoples.
Jameson House
Far from the quaint home one might picture before learning of the property's history and design, Jameson House is an apartment building more resembling a futuristic skyscraper than a residential space. Located in Downtown Vancouver, Jameson House is self-described as "a stunning example of vibrant living designed by the architectural firm of Foster and Partners." Bearing external similarities to a traditional radiator, the undulating facade of the tower offers the public a soaring example of contemporary architecture in one of Canada's most metropolitan cities. Constructed by Bosa Properties, "one of Canada's most respected development companies," Jameson House features "only the finest finishing from Germany, United Kingdom and USA" in each of its apartments, which are outfitted with large windows and private balconies, as well as top-of-the-line appliances.
Awarded the Best Tall Building Americas 2012 Award of Excellence, Jameson House has been celebrated by architects, engineers, and public citizens for the last decade for its innovative, sustainable design and response to historic surroundings. Nestled between the Ceperley Rounsfell Building and the Royal Building, Jameson House required the integration of 1920s Art Deco architectural elements with a contemporary aesthetic. According to Skyscraper Center, Jameson House "was designed with a consideration for rehabilitating and incorporating the existing structures, as well as creating a sustainable tower to house both residential and office programs," while still offering "passive environmental solutions."
Where to Stay: Chic Loft Sanctuary
(Left and Right) Images from Airbnb
This chic loft in Gastown, Vancouver, available for rental through Airbnb, offers a homey brick interior, rich textiles, and accents of warm metals in its interior decor. Modern lighting and contemporary art fills the space, complimented by sleek mid-century furniture of living-edge wood, tufted upholstery, and supple leather. Boasting an open floor plan and stunning views of the city, the entire apartment is flooded with natural light.
Fitting just two guests, this loft in the Koret Building is perfect for a romantic Vancouver couple's getaway; according to the listing, "the kitchen is fulling stock featuring a gas range, stunning marble dining table, organic teas and coffee" while the bathroom offers a walk in shower and the bedroom a plush king-sized bed. A communal courtyard provides visitors with an incredible view of Downtown Vancouver, as well as several barbeques and an additional dining space. The listing's hosts also note the proximity to "notable restaurants [like Vancouver's] only Michelin Star, [which is] five steps away."
Waterfront Penthouse
(Left and Right) Images from Airbnb
For a rental closer to the ocean, consider this waterfront penthouse listing on Airbnb, which can accommodate up to six guests with its three bedrooms and three baths. Further from the Museum of Anthropology and some other metropolitan features as it is located in North Vancouver, this penthouse apartment is worth the drive for its beautiful contemporary accommodations and stunning ocean views. With both the living area and bedrooms boasting floor-to-ceiling windows, this condo offers visitors "unobstructed ocean views facing south west to downtown Vancouver, Stanley Park, Lions Gate Bridge, and mountain views with beautiful sunsets" from its "massive wrap-around balcony." The listing also features "hardwood flooring, an Italian Scavolini kitchen, Bosch appliances, central air conditioning," wifi, cable television, and two reserved parking spaces for guest use.
Where to Go: Coos Bay, Oregon
What to See: McCullough Memorial Bridge, Coos History and Maritime Museum, and Bay Point Landing Glamping Ground
Where to Stay: Retro Guesthouse on Airbnb
Just outside Oregon Dunes National Recreation Area, Coos Bay offers some of the most stunning coastal views in the state. With plenty of opportunities for recreation, from camping and hiking to boating and swimming, Coos Bay has become a seaside destination for many travelers along the Pacific Northwest Coast. Celebrated for its incredible seafood, deep dunes for exciting ATV-ing, protected parks, and cultural and arts attractions, Coos Bay offers a surprising number of modern and contemporary architectural landmarks, from the newly constructed Coos History and Maritime Museum to the McCullough Memorial Bridge.
What to See: McCullough Memorial Bridge
Designed by Iowa native and longtime Oregon resident Conde B. McCullough, the McCullough Memorial Bridge funded by the WPA (Works Progress Administration) remains one of Oregon's most impressive architectural feats. Renamed for the architect and structural engineer after his death in 1947, the McCullough Bridge was originally called the Coos Bay Bridge and according to The Oregon Encyclopedia, "at 5,305 feet it was the longest in the state highway system when it was completed in 1936."
McCullough, who moved to Oregon in 1916 as a professor of structural engineering for OSU, would design a number of bridges for the state throughout his career; it was through the WPA grant provided by the federal government in the 1930s that McCullough was able to design "the Yaquina Bay Bridge at Newport, the Alsea Bay Bridge at Waldport, the Siuslaw River Bridge at Florence, the Umpqua River Bridge at Reedsport, and the Coos Bay Bridge at North Bend." Many consider these bridges to be the "pinnacle of his career." According to The Oregon Encyclopedia, though "the technical challenges McCullough faced constructing the mile-long bridge over a busy water channel, complete with pedestrian walkways and wide staircases, made the then-Coos Bay Bridge the most difficult of the coast bridges to build," the bridge's construction also provided hundreds of jobs.
Bay Point Landing Glamping Ground
(Left and Right) Images from Denzeen photographer Caleb Gaskins
As Jessica McKnight describes in her article "OfficeUntitled creates comfy cabins and spacious clubhouse for luxury Oregon campground" for Denzeen, Bay Point Landing's "glamping ground" is a "'private retreat and place to connect with the sea,' [from which] the property overlooks a tranquil bay and is surrounded by sandy beaches and a dense forest." An interesting alternative to a traditional hotel (for the more glamorous traveler) or pitched tent (for the backpacker), this Coos Bay glamping site by OfficeUntitled offers "an indoor saltwater pool, a fitness centre, and furnished cabins with televisions," all of which are quite beyond the typical accommodations provided by seaside campgrounds.
Once associated with a local lumber mill, the Bay Point Landing Glamping Ground was renovated and refitted to respond to its industrial roots. OfficeUntitled deemed the site inappropriate for larger structures like a hotel, lodge, or series of apartments, so they went ahead with a plan to build "a series of smaller structures [which] were designed as a network of communal camps." Currently, "the campground offers 17 furnished cabins and 14 Airstreams, along with nearly 100 spots for drive-in caravans," "a spacious, year-round clubhouse that is lifted above the ground via a series of piers," and "a network of walking trails [that] connects the different areas within the campground." Each cabin is timber-sided to refer back to the site's history and outfitted with luxury furnishings, while the Airstreams each "contain a sleeping area, a convertible dinette space and a bathroom with a toilet, sink and shower" just as do the cabins.
Where to Stay: Retro Guesthouse
(Left and Right) Images from Airbnb
This retro guesthouse listed on Airbnb for under $130 per night, can accommodate up to six guests at a time across its three bedrooms and four beds. Filled to the brim with modern charm and coastal accents, this guesthouse rental offers renters a gas fireplace, "patio with amazing bay views," dining area, kitchen with "two burner stove and a countertop convection oven," "backyard fire pit," and a yard. The charming interior contains a comfortable vintage leather couch, wood paneling and furniture, and plenty of light throughout. Located close to the "Oregon Dunes National Recreation Area, Charleston Harbor," and downtown Coos Bay, visitors can easily walk to restaurants and shops.