How five Floridian architectural designers are modernizing the Panhandle and ushering in a new age of innovative contemporary design
3434 E County Highway 30a, Santa Rosa Beach, FL 32459 Image from Zillow and 2657 E County Highway 30a, Santa Rosa Beach, FL 32459 Image from Zillow
While Florida's Panhandle may have conjured up images of traditional homes and uninspiring commercial architecture still rooted in turn-of-the-century design aesthetics, many new houses constructed along the Northwest coast of the state embrace more modern sensibilities, from soaring floor-to-ceiling windows to sleek lines throughout. Pioneering architecture firms, forward-thinking interior designers, and out-of-the-box builders have found their place in luxurious destinations like Alys Beach, Rosemary Beach, Seaside, and Santa Rosa, dotting the coastline with homes befitting the most modern buyers. Follow below for a few stand-out builds on the market today.
Inlet Beach
151 Coopersmith Lane Home Designed by Savoie Architects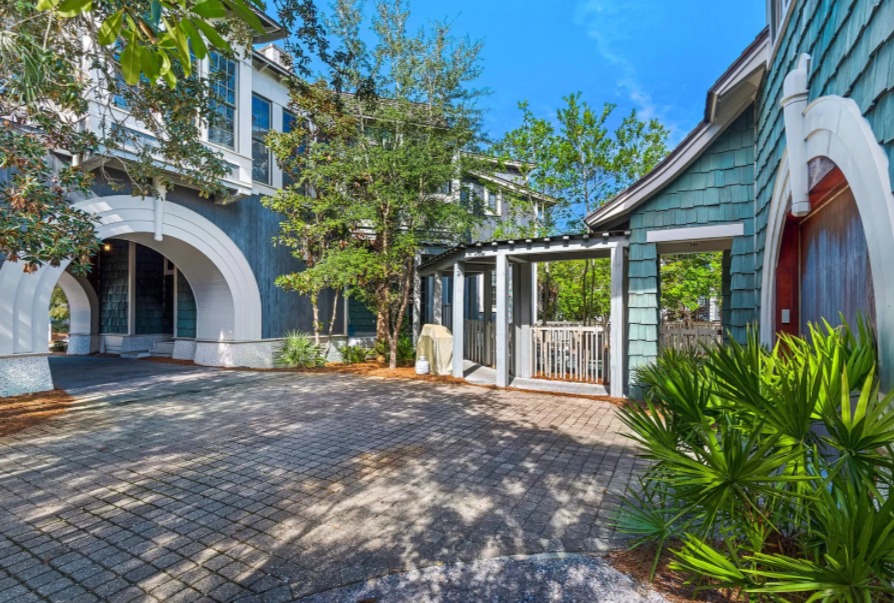 151 Coopersmith Ln, Inlet Beach, FL 32461, Images from Zillow
Designed by Savoie Architects, this five bedroom home offers a unique exterior, clad in internationally-inspired teal shingles, topped with a lantern, and adorned with a series of exciting architectural elements like an arched portico and lovely front porch. The covered arched driveway adds extra interest, leading visitors to one of many outdoor areas. The interior offers organic shapes both in the architecture and in the chosen furnishings; an arched fireplace in the living room echoes the multi-arched driveway outside, while the trapezoidal ceiling offers a hogan-style uncommon in residential coastal builds.
A series of unusual architectural shapes presents a feeling of uniqueness in this home, exemplified by the interrupted bay windows, vaulted trapezoidal ceilings, and sharply angled niches in which bathtubs and reading nooks reside. The home offers a truly modern sensibility, blurring the lines between interior and exterior spaces through its countless windows and winding walkways, encouraging a relationship between residents and the natural world. The landscaping is just as contemporary as the interior, with an infinity edged pool custom-designed for this house and a courtyard perfect for entertaining.
Savoie Architects
Founded by Matthew C. Savoie and established in 1996, Savoie Architects is self-described as a firm "dedicated to creating a solution that is personal in function and design, while respecting the natural beauty of the site and environment." This philosophy is clearly reflected in their Coopersmith Lane home; from the intentionally overgrown landscaping to the countless curves and angles of the house itself, each element reflects the panhandle's coastline.
Alys Beach
Harrison Residence (Vacation Home) Designed by Jeffrey Dungan
Exterior image from Dezeen and interior image from Jeffrey Dungan website
Designed by native-Southerner Jeffrey Dungan, this Italian-inspired vacation home in the elite neighborhood of Alys Beach was the winner of several awards, including the "Palladio Award in 2018 and a Schutze Award." Its soaring, bright-white exterior clearly reveals its roots in Santorinian architecture, complimented by dark accents and countless windows, whether they be arched, rectangular, or circular. The building's facade, interior, and landscaping each offer a perfectly clean aesthetic, with the interior clad in pale gray woods and the outdoor pool flanked by sand-colored and warm white-toned stone tiles.
Though the interior is stunning, the home's architecture is exceptional, with Moorish arches, a Gothic tower, and a spotless stucco facade. Constructed in a planned community of Alys Beach designed by Andres Duany, Dungan's vacation home is as romantic as it is contemporary, filled with glass, stone, and soft lighting. However, the build is also practical, with a storm-resistant L-shape and ",,cast-in-place concrete walls."
Jeffrey Dungan
Jeffrey Dungan, a contemporary private residential architect whose "clean and modern approach" offers a "fresh voice in the industry," has been praised for his many impressive homes across the country. Honored by the American Institute of Architects, Veranda Magazine, ADAC, and the Institute of Classical Architecture and Art, Dungan has become a well-respected name in architecture, design, and interiors.
Santa Rosa Beach
Mont Blanc House by Archiscapes & TS Adams Studio
146 Montgomery St, Santa Rosa Beach, FL 32459 Images from Zillow
This mammoth Montgomery Street home in Santa Rosa Beach, Florida, also referred to by the moniker "Mont Blanc," is so named for its stunning Greek island-inspired, shocking white exterior. Listed for nearly $15 million on Zillow, the home by Archiscapes & TS Adams Studio boasts countless custom features, from the top floor deck with glass railings to the eucalyptus and oak beams throughout its interior. The six-bedroom, nine-bath house provides residents with over nine thousand square feet of indoor space, outmatched only by the generous eight thousand square foot lot size, complete with a custom "plunge pool" or a short walk to the beach, depending on one's preference for their morning or night swim.
TS Adams Studio
While TS Adams Studio began in 2001 as a one-man operation in Georgia, the firm has since grown to include a number of thoughtful, imaginative creatives, all tied together by their self-defined goal of "designing houses of visionary distinction." Founder Tim Adams is not only committed to creating exciting and stunning contemporary homes, but is also dedicated to architectural preservation as a member of the Historical Preservation Society and the Institute of Classical Architecture and Art.
Archiscapes
Archiscapes, a South Walton architectural firm, designs both commercial and residential buildings throughout the Gulf Coast. Founded by a married couple joined by their love of architecture and each other, Archiscapes promises projects that "challenge the status quo" and "sculpt dreams into reality." The firm offers expertise in a wide range of architectural styles, from Southern Coastal to Caribbean to Mediterannean.
435 Beachfront Trail by Alan Ficarra


435 Beachfront Trl, Santa Rosa Beach, FL 32459, Images from Zillow
This 1995, Alan Ficarra-designed masterpiece is currently listed on Zillow for $3.25 million. Nestled within Seclusion Dunes, a private neighborhood of Santa Rosa Beach, the five-bedroom, six-bathroom home offers buyers softly dimmed modern lighting for nighttime, and soaring windows for sunlight during the daytime. Balconies and clerestory windows throughout offer gorgeous views of the ocean and neighborhood, while the solarium offers a unique sunbathing experience sure to connect one with the surrounding landscape, especially as the solarium also functions partially as a greenhouse. The listing describes "mature, manicured grounds" with palm trees, hedges, flowers, and many other tropical plants. The current owner also notes the home's recent renovations, which include "all new stucco…and a premium fresh coat of paint over the exterior," and UV-protection, climate controls, and a bistro table in the solarium.
Alan Ficarra
Alan Ficarra, a celebrated local architect whose work has been touted for the last thirty years across Florida and the south of the country, also created a company of builders in recent years, which works with architects and homebuyers to produce exciting, individualistic homes. Ficarra Builders, Alan Ficarra's company, has produced builds in Seclusion Dunes, Seaside, Watersound, Pelican Point, and Rosemary Beach. Ranging from Craftsman styles (like the Rosemary Beach builds) to whimsical Eclectic styles (like several Seaside homes), Ficarra's company has worked with master creators to produce some of the most unique, historically-inspired homes along the Panhandle.
Rosemary Beach
11 Town Hall by Brian Stackable
11 Town Hall Rd, Rosemary Beach, FL 32461 Images from Realtor.com
This six-bedroom, seven-and-a-half-bath home designed by Brian Stackable of architecture and design firm Stackable + Mracek Designgroup, bears some similarity to other Moorish-inspired homes in the area. Countless windows flood each floor with endless sunlight and opportunities for stargazing, with the clerestory windows and rooftop deck providing nearly panoramic views of the home's surroundings. According to its listing on Realtor.com (with the property now listed as a rental), 11 Town Hall Road offers a rooftop bar (incorporated into the deck), a large pool, a private courtyard, four master suites, a butler's pantry, full laundry, "oversized oval windows," a guest suite with a private bath, and countless other features. The exterior of the home has been finished in Venetian plaster, while the interior boasts Castello marble bathrooms and countertops, "wire-brushed oak steps," exposed beams, and painted-wood walls throughout.
Stackable + Mracek Design Group
As described by Allison Calder of Our White Farmhouse, Brain Stackable and his firm Stackable + Mracek Design Group are "responsible for a number of projects all along the coast of 30A both commercial and residential." Contemporary design-minded Floridians have been captured by many of Stackable's projects, which often strike a balance between "coastal style and modern farmhouse," according to Calder, whose home was designed by the architect. Winner of the "Best of Houzz" Design Award in 2018 and 2020, Stackable and his team have been celebrated for their "truly unique architectural design solutions," which have been incorporated into homes along highway 30A, "Watersound Beach, Rosemary Beach, and Seaside, Florida," as well as throughout South Carolina and Georgia.